What is ASO?
What is the Application Store Optimization (ASO)?
It is the combination of optimizations that allow you to rank your app higher on app stores and increase user interaction. Application store optimization starts not when you publish your app but before you publish it and continues until you remove your app from the stores.
Let's check out some valuable techniques, which you can carry out without the need for paying a penny.
Important: Please pay attention to not include any elements that include brand or copyright violations while implementing the mentioned methods. In case you will use an element that includes brand or copyright violation, your implementation will be denied by the app store.
1. Package Name of the App – ASO starts when you start developing an app
Every Android app must have a package name. It runs many procedures about your Play Store app with this package name. For example, the package name of the Instagram app is "com.instagram.android" and the package name of the Pinterest app is "com.pinterest". Their effect in terms of ASO is ASO pays attention to words used in the Play Store package name. Pick your favorite keyword and define it as a package name by including dots between the words. For example, if you are going to publish a VPN app, you can define the package name as "uncensored.internet" or "speed.vpn". Thus, your chances of ranking higher, when a user searches for "speed VPN", will be significantly increased.
2. App Title – Attract the attention of the users
Many app developers only type the title of the app in the app title section. Let's assume that the app name is "xVPN". Don't you think it is a waste to use only "xVPN" in the app title, which has great importance in terms of ASO?
Type words that can attract the attention of users and can be used as keywords in the title section such as "Free Vpn xVPN – Uncensored Internet" You can even use words that will attract the attention of users without using the name of the app. However, we do not recommend this in case you are planning to create brand awareness.
3. App Icon – Love at first sight
Just like the app title, the app icon on the app market does not have to be the original app icon. Your app icon should tell about your brand as well as it should be different than the icons of your competitors and look modern. Most of the users click 2 buttons to install your app. One of them is the icon of your app and the other one is the "Install" button. A careless and unattractive icon will make you lose the game before you start playing. Check out the apps of your competitors and create a beautiful collage.
4. Editing the Description – The path to rank higher with keywords
Play Store allows you to type 4,000 characters for app description. A total of 4,000 characters, which you can use strategically.
Firstly, let's divide this section into two as the section, which you will impress your users, and the section, which you will impress the Play Store system.
The section in which you will impress the users: In general, users pay attention to the first 3 lines of the description section because the "more" button comes after these lines. Use carefully prepared content that can impress the users and let them install your app in the first 3 lines. You can also benefit from emojis to make your description more attractive. Besides, the Play Store also supports some HTML tags. <b> … </b> tag will make your text bold and <i> … </i> will make your text italic.
The section in which you will impress Play Store: Talk about the features of your app after the 3rd line. What kind of advantages do you offer to your users? What makes your app better than your alternatives? Of course, you need to use keywords while talking about these features. You can use phrases such as "Browse the uncensored internet with our free VPN app", "Our app will be your indispensable for fast internet connection" If you have not used all 4,000 characters yet, you can leave the rest for your keywords.
You can proceed to the next steps once you used all 4,000 characters.
5. Use Interesting Images – Keep in mind that you are marketing a product
Do not share the screenshots of your app in the app images section of the Play Store. This will make your app look sloppy for your users. Fill all the image fields provided for you and prepare a good video. Keep in mind that users are expecting a visual feast from you and the fate of your app will be determined by this visual feast.
6. Make Your App Multilingual – More languages mean more users
Your app title, icon, description, and other images, in short, every above-mentioned section can be customized according to different languages. You will get more benefits in line with how many languages you prefer for your app promotion. You can even give a place to the flags and cultural symbols of the countries in the images. This will help your users to adopt your app better and gain more permanent users.
If you have done all these, we applaud you! Your app is ready to be published now. You have built a spaceship and it is ready for launch. Well, what you need to do next? Your competitors have millions of installs and thousands of reviews and likes. You are not even in the ranking with your desired keywords. At this point, BoostApp.Store will be at your service. Play Store has certain criteria for ranking. Let's talk about them now.
1. Install Rate and Acceleration of Your App Within the Last 1 Month
Many app developers make a mistake. "My app will rank higher in line with how much it installed" This is wrong. Your app can be installed 10,000 times a day. However, if it will be installed 100 times in the following day, this would look weird.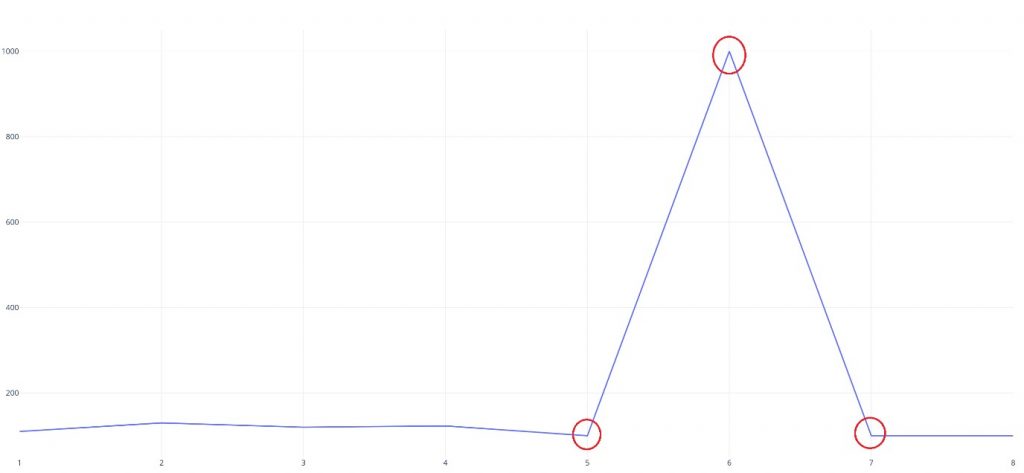 You can easily notice that acceleration suddenly increases and decreases excessively. In this case, Play Store can perform one of the three scenarios:
A) It can temporarily let the app rank higher, however, a sharp drop will occur in a few days.
B) There will be no change in the ranking of the app.
C) Your app can lose ranking.
In short, the app install counts has equal importance with the install acceleration.
The orange section refers to installs bought from BoostApp.Store. While installs bought from BoostApp.Store remains the same after a while, you can see that the line rises. Because you are in the ranking now and your rank higher every passing day. BoostApp.Store is an amazing service that you can use to improve your organic installation count. After a while, you can continue rising on the ranks with your organic installations without the need for BoostApp.Store installs.
Benefit from a completely risk-free install service for your live apps right now!
2. Duration of Your App on Users' Device
The reputation of your app will increase in line with how long it stayed on the device after it installed. While the apps of your competitors remain on devices for days, the fact that your app is removed from the device a few days after the installation will negatively affect the Play Store algorithm. Therefore, it is very important to carefully design the interface of your app, keep its functionality at the highest level, and quickly detect and eliminate the errors. Most of the competitors of BoostApp.Store keep your app on devices for a few days. This means that your app will rank higher for a while but then return to its original ranking. BoostApp.Store keeps your app on devices at least 30 days. Thus, your reputation on Play Store algorithm increases. You can improve your ranking in search results and maintain your ranking for a longer time.
Would you like to benefit from the most affordable services in the world? Sign up now.
3. Comments and Stars – In short, reviews
One of the elements that your new users and Play Store pay attention to is comments and rates given to your app. While positive reviews improve your reputation, negative reviews do the opposite. In addition to rates, Play Store also evaluates positive words and included keywords in reviews. Besides other elements, this has the utmost importance for ranking.
Your users consider getting what they want from your app while reviewing your app. Ease of use, stable operations, simple design…
In general, 20% of users review the apps. You can request your users to review your app periodically. However, you should not share phrases such as "rate our app with 5 stars and earn score" or "give us 5 stars" with dialogues or notifications in the app. This is a Play Store rule violation and your app may be removed since it is quite easy to detect and prove.
You can improve your positive reviews by using BoostApp.Store. If you have just released your app, you can enjoy a great start or if you have a poor reputation, you can get rid of negative ratings and comments.
As in installs, it is quite important to create an increasing graph in reviews. You can contact our sales representatives for special assistance for your app.